This spring, Drake's Greek chapters welcomed Brittan Etzenhouser as the director of fraternity and sorority life. In the short time since her arrival, she has already begun making big plans to continue unifying the men and women in the Greek community.
Etzenhouser's experience in the Greek system began during her college years. While pursuing an undergraduate degree at the University of Miami in Florida, she pledged Tri Delta sorority. She quickly became involved in the school's Panhellenic Council — the governing body of sorority life — as a Panhellenic delegate. This led to a position on the executive board and eventually a term as president of the Panhellenic Council.
After graduation, Etzenhouser continued her Greek journey by serving as a traveling chapter consultant for Tri Delta. She then returned to school at the University of Iowa, where she received her master's degree in student development in post-secondary education. Last May, she moved to the Des Moines area and was thrilled when the opportunity to work with Drake's Greek community opened in the spring.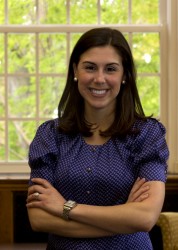 "It's been a whirlwind so far," says Etzenhouser of her new position. "I was lucky to come at the beginning of the spring semester and start with a new group of council members and officers. It's been a learning process, but the staff and students have been so patient and welcoming."
The director of fraternity and sorority life's main role is to provide supervision to Drake's Interfraternity Council and Panhellenic Council. Etzenhouser works with these boards to plan programming, philanthropy and recruitment events and assists in their efforts to unify the Greek community. She collaborates with Greek leaders, like Erik Ryczek, Interfraternity Council president, to understand the strengths, weaknesses, expectations and needs of each organization.
"So far, it has been a pleasure to work with Brittan," says Ryczek. "She brings a fresh perspective to the Drake campus and our Greek community. She truly cares about upholding the Drake mission and helping us achieve our organization's goals. She is genuinely invested in making both our chapters and our individual members better."
Etzenhouser has noticed that while many aspects of Drake Greek Life are similar to that of other schools, the academically-driven student population and the school's emphasis on leadership set Drake apart.
"The Greek community at Drake is a very strong community, well-rooted in tradition and history," says Etzenhouser. "What I most appreciate about Drake Greek Life is that it is a strong presence on campus. Its members pride themselves on being Greek, but also make sure they are involved in other aspects of the Drake community."
In her short time at Drake, Etzenhouser has already proposed improvements for the Greek system. While chapters currently complete hundreds of service hours and raise thousands of dollars each semester for community and chapter-affiliated organizations, Etzenhouser would like to see philanthropic efforts include a more educational aspect. She will encourage chapters to teach students and the community about the purposes of their philanthropic efforts in hopes of raising awareness about Greek Life in the Des Moines community.
"Philanthropy is a point of pride for most chapters," says Etzenhouser. "I would like to see chapters educating other students on what their money is going toward, why their cause is important and how their contribution will affect it."
Etzenhouser also hopes to improve programming that involves both Greek and non-Greek students. Greek organizations have great programming opportunities within their chapters but do not always open events to the greater community. Because many on-campus organizations have similar needs and interests as fraternities and sororities, she believes that it would be beneficial to build partnerships to fund and plan common events. She also hopes to see Greek organizations co-sponsor events with large organizations like Student Senate or Student Activities Board that will be open to the entire Drake community.
Overall, Etzenhouser's goal is to incorporate the four pillars of the Greek community — scholarship, leadership, service and friendship — as she works to unify the Greek system.