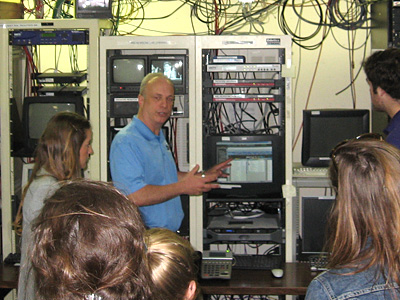 WOI-TV Sports Director John Walters told the JMC100 Field Photo class when he begins his new job with Iowa State University in June he'll be able to spend more time reporting. The 1984 Drake E-Media graduate was recently introduced as the director of Broadcast Programming for a new digital network, cyclones.tv. Walters told the class during their tour and conversation he also looks forward to more regular family hours after 30 years in traditional sports reporting and anchoring, first for KCCI and, for the last 16 years, at ABC5.
Walters said stations increasingly rely on the Internet and mobile media for field reporting. ABC5 reporters routinely use a self-contained backpack that connects with one cable to the camera and provides broadcast-quality feeds.
The three-time Iowa "Sportscaster of the Year" continues into his 9th year as play-by-play voice of Iowa State football and men's basketball, an interest developed while attending high school in suburban Chicago where he "wasn't good enough to make the team but always loved sports."
ABC5 named 2005 E-Media grad and sports staffer Dave Zawilinski to take over as sports director and lead anchor. 2007 E-Media grad Joey Donia fills out the full-time sports staff.