Drake University Theatre's production of Samuel Beckett's Endgame, directed by John Graham, assistant professor of theatre arts, opens Thursday, April 26.
Endgame was first performed at the Royal Court Theatre as a French-language production in 1957. It is a typical Beckett play written in the style of the theatre of the absurd. It has long been considered to be one of Beckett's most important works along with the well-known Waiting for Godot.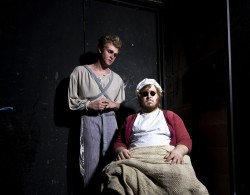 The show centers on Hamm and his servant Clov, two characters with unfortunate circumstances. Hamm is blind and cannot stand, and Clov cannot sit. Faced with disparity and futility these characters are mutually dependent upon the other. Joined by Hamm's legless parents, Nagg and Nell, the show is full of dark hilarity.
"It's a hilarious play," Graham says. "There is so much physical comedy in the show. It really goes right along with what the character Nagg says, 'there is nothing so unfunny as unhappiness.'"
According to Graham, it is a show that portrays the desperate desire of human beings to connect with others who are in their lives.
"Everybody will get something different out of it," Graham says. "It is my job to present the play not to give the audience what they are going to get out of the show. It is a show that will leave the audience arguing about the meaning."
Performances start at 8 p.m. April 26–28, and at 2 p.m. April 29, in the Studio Theatre of the Harmon Fine Arts Center, 25th Street and Carpenter Avenue.
Admission is $5 for adults and $3 for seniors and students, with a Drake ID. Tickets can be reserved by calling the Drake Fine Arts Box Office at (515) 271-3841.