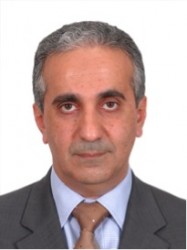 More than one year after the Egyptian revolution, its effects are still being felt in the Middle East and globally. The Honorable Maged Refaat Aboulmagd, consul general of Egypt in Chicago, will give a lecture regarding the uprising and the current situation in Egypt. His lecture, "Egypt: One Year After the Revolution," will take place April 10 at 7 p.m. in Bulldog Theater, Olmsted Center. The event is free and open to the public and sponsored by The Principal Financial Group Center for Global Citizenship.
Aboulmagd has been a diplomat with the Egyptian Foreign Ministry since 1988 and held positions in Belgium, Bahrain, Russia and Nigeria, as well as with the Permanent Mission of Egypt to the United Nations. Aboulmagd's other special assignments and UN-related experience include serving as an alternate representative to the UN Security Council and as an observer with the UN Observer Mission in South Africa.
The Principal Financial GroupCenter for Global Citizenship educates students to function effectively in different cultural contexts, and to see their own culture from the perspective of others. The Center also works to ensure that global perspectives and issues are an integral part of the intellectual and cultural experience of all members of the Drake community.