Drake is at the forefront of a new way of thinking about collegiate athletics, with student-athletes leading the way.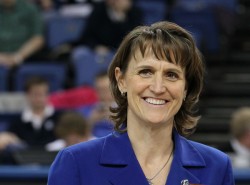 When first-year student-athletes arrive on Drake's campus, Athletic Director Sandy Hatfield Clubb doesn't just see them as skilled practitioners of their sport. She sees them as future leaders. Hatfield Clubb knows that the Drake athletics experience is one of the best training and proving grounds for going on to lead the way in business, education, non-profits, medicine, or any other field where the students' hearts reside.
Drake's student athletes are some of the young adults who are going to change the world. And guiding them along the way is a responsibility that Drake's head coaches and Hatfield Clubb take seriously.
"Student-athletes motivate their teammates, resolve and manage conflict, identify strengths and weaknesses, cope with loss and celebrate success," she says. "Lessons learned from sports are as valuable off the playing field as they are on it."
Hatfield Clubb, together with Drake President David Maxwell, has been guiding a strategic plan for Drake athletics that calls for providing leadership-based experiences for student-athletes. Two years into the plan, results are evident. Drake has a new concentration in leadership, coursework that equips student-athletes to take the leadership message into middle school classrooms, and an array of experiential offerings — such as a May 2011 trip to Tanzania for football, community projects and a soul-stirring climb of Mt. Kilimanjaro.
Drake Athletics' Strategic Plan hinges on two key goals, to be demonstrated by 2014: to establish a measurable culture of excellence as well as a sustainable business model. Actions include securing needed resources, building the student athlete experience through exceptional coaching and education, and nurturing a culture in which excellence, character and collaboration reign.
When complete, the plan promises to serve as a progressive new model for intercollegiate sport.
"Leadership learning through sport is not new," says Hatfield Clubb. "But what we're doing is using sport as an experiential learning program for leadership rather than simply learning about leadership alongside of taking part in sports. We are building sport into the core of our academic offerings — that's new."
New curriculum for student-athletes
So far, two classes have been developed as part of the new curriculum for student-athletes. Bulldog Foundations, launched in spring 2012, is being offered to all incoming Bulldog athletes. The course delves into study skills and goal setting, focusing on the development of the student-athlete as a whole.
In the second, community service-driven curricular component, Seeds of Success, student-athletes are being trained to take lessons from Drake's Bulldog Playbook — habits of excellence, leadership and performance as well as core values, ethics, and moral and character development — into middle school classrooms. As the training component for this class draws to an end, students are preparing to visit classrooms for three sessions each in April. The program's success hinges on strong collaboration with classroom teachers as well as supplementary follow-up curriculum. This was created in cooperation with Drake-based non-profit Character Counts in Iowa, an organization that promotes character development.
"We decided that we couldn't do everything we wanted to accomplish just in our classroom visits," says Hatfield Clubb. "We're starting with the role model of the student athlete — the middle schoolers will likely remember that this was something cool. Our students will be planting a seed for teachers to continue to nurture and grow."
Lessons from the playbook 
Cecelia Fryer, a first-year student majoring in biochemistry, cell and molecular biology and a goalkeeper on the Drake women's soccer team, picked up some of her most important leadership lessons on the bench of a soccer field.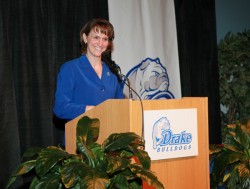 "As the second goalkeeper on the team, I had to learn quickly how to be an active leader from the sidelines," says Fryer. "Without soccer, I never would have known that the leadership of a positive individual can impact the team almost as much as the person making the winning play."
First-year student Mitch McLaughlin, a guard on Drake's basketball team who is triple majoring in finance, marketing and accounting, especially valued being able to navigate Bulldog Foundations with others on his team while learning from leadership role models like Hatfield Clubb and others.
"Being influenced by them, as well as meeting with peers who are also interested in leadership, has been a huge benefit for me," he says.
Both Fryer and McLaughlin are finishing the learning phase of Seeds of Success as they prepare to take what they have learned into Des Moines middle school classrooms.
"I am hoping to show kids that throughout life, there are people who will try to tell you that you aren't good enough or that you can't do something," says Fryer. "My message is that as long as you believe you can do something, through commitment and hard work, you can."
McLaughlin, too, is looking forward to imparting some of his core values to area students.
"A lot of leadership is doing the right thing when no one is looking," says McLaughlin. "It's so key to being successful, and will help you in academics, athletics and throughout the rest of your life."
Next steps for success
Another piece of the Athletics Strategic Plan puzzle is the renovation of Drake's field house. While it's a separate variable, having this new space would go a long way toward addressing the "resources" part of the vision for athletics.
"The field house is still a critical element in our long term success," says Hatfield Clubb. Ideally, we hope to gain momentum and raise funds for this in the next two years."
While significant progress has been made, some additional pieces need to fall into place for Drake athletics to reach the blue sky of its strategic vision. But according to Hatfield Clubb, it's a vision that's entirely within reach.
"We have a different culture here at Drake — we value student experience through sport," says Hatfield Clubb. "This vision for athletics probably couldn't happen anywhere but Drake."
⎯ Jill Brimeyer