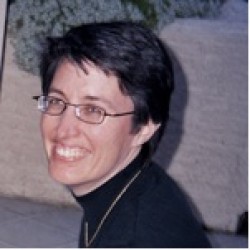 Jennifer McCrickerd, associate professor of philosophy, was recently selected as an American Association of Philosophy Teachers Teaching Fellow. The two-year fellowship includes a $500 honorarium and is given to devoted, excellent philosophy teachers. She is one of two professors selected nationwide.
"I decided to apply for the honor because I think that teaching is the most important thing that we do in higher education and I think philosophers have some good things to say about teaching," says McCrickerd.
McCrickerd is also the Honors Program director and has previously chaired Drake's Department of Philosophy and Religion. She has received the Outstanding Teacher of the Year Award in the College of Arts and Sciences as well as the Honors Program Teacher of the Year Award. Her courses deal with ethics, philosophy of science, feminist philosophy and the art of living. In addition, she has served as a consultant for various ethics committees regarding health care. She holds a bachelor's degree from Wellesley College and a master's degree and Ph.D. from Washington University. She is a frequent speaker at national conferences and has published several articles in academic journals including The Journal of Medical Ethics and the Journal of Philosophical Research.