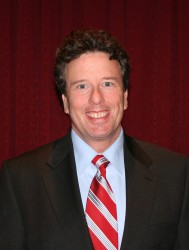 Tom Root, associate professor of finance
Three financial and economic experts will participate in a panel discussion, "Dissecting the European Financial Crisis" on April 4 at Drake University. The event, sponsored by The Principal Financial Group Center for Global Citizenship, takes place from 7:30″"9 p.m. at Bulldog Theater, Olmsted Center and is free and open to the public.
Robert Baur, chief global economist for Principal Global Investors; Robin Anderson, economist for Multi-Asset Advisors; and Tom Root, associate professor of finance at Drake, are the featured panelists.
Baur has a PhD in economics from Iowa State University and speaks around the world. He is frequently quoted by financial news media and appears regularly on CNBC, Fox Business and Bloomberg Television.
Prior to her current position, Anderson was an economist for the U.S. Census Bureau. She received her PhD in economics from the University of Washington.
Root also has his PhD in economics and is frequently quoted as an expert in national media outlets such as CBS News and the Associated Press. He has received a number of awards recognizing his teaching, including the Graduate Teaching Award and the   College of Business and Public Administration's Harry. L. Wolk Research Award.