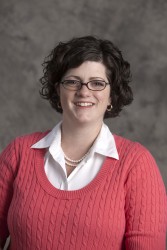 Andrea Kjos
Andrea Kjos, assistant professor of social and administrative sciences, recently received a $10,000 grant for her research project, "Impact of an Innovative, User-Centered Technology on Medication Self-Management." The grant comes from the American Associations of Colleges of Pharmacy (AACP) "" New Investigator Awards.
Kjos' study will assess whether drug information in the form of smartphone technology will provide a resource for patients with diabetes in a way that empowers them to better outcomes. The study will use a psychological model of adherence based on health behavior theory; this will help build theory in the area of medication adherence.
"In pharmacy, we deal a lot with "˜drug information' but are often challenged with how to make that great information take on a practical form that is actually used by patients," Kjos says.  "In this project, patients with diabetes will be provided a tool that is customizable to fit their needs."
Kjos has been working on the project since the spring of 2010. She collaborated with Anuj Bhargava, a physician endocrinologist at the Iowa Diabetes and Endocrinology Research Center, to develop the smartphone technology.
"When professors are pushing the boundaries of their subject matter and answering tough questions, they in turn help students appreciate that our subjects extend beyond "˜what is going to be on the test,'" Kjos says. "I believe it ultimately fosters passion in our subject matter, which can be translated to inspire our students."
The grant is for one year, and she will present her final research findings at the 2013 AACP Annual Meeting in Chicago.