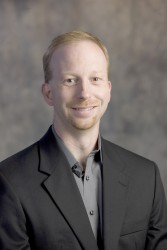 Eric Saylor, associate professor of music history
Eric Saylor, associate professor of music history at Drake, is a co-editor and contributor to the recently released essay collection, Blackness in Opera. The book is available beginning in March through University of Illinois Press.
"Seeing the book come out is hugely exciting," says Saylor. "This is my first book, and I've learned a huge amount in the process. I can only hope it will complement the outstanding creative endeavors of my colleagues and students, and emphasize our dedication to intellectual inquiry as well as artistic achievement."
Blackness in Opera critically examines the intersections of race and music in the multifaceted genre of opera. A diverse cross section of scholars places well-known operas (Porgy and Bess, Aida, Treemonisha) alongside lesser-known works to reveal a new historical context for re-imagining race and blackness in opera. The volume brings an interdisciplinary approach to questions about how blackness has been represented in these operas, issues surrounding characterization of blacks, interpretation of racialized roles by blacks and whites, controversies over race in the theatre and the use of blackface and extensions of blackness along the spectrum from grand opera to musical theatre and film.
"We wanted to show that this was a much richer and more complex area of study than typically assumed, and raise important questions about the ways that race, ethnicity and identity intersect in this genre," Saylor says.
Publication of the book was supported in part by Friends of Drake Arts. To order the book, call 800-621-2736.