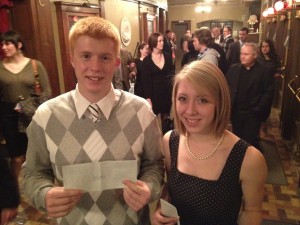 Drake SJMC students were victorious at the  American Advertising Federation of Des Moines (AAF of Des Moines) annual ADDY® Awards show on Saturday, February 11.
Drake Students won the following local ADDYS:
· GOLD ADDY: Kat Moore, "Branching Out Florist"
· SILVER ADDY: Monica Worsley, "All our campus in a flower"
In addition, sophomore Zachery Schrom was awarded the Wesley Day Scholarship, and junior Jackie Ingmand received the Terry Stoffer Scholarship. Both are Advertising-Creative majors.
2007 Drake University graduate Joel Brewer was chosen as the 2012 Ad Pro of the Year. Joel was an Advertising-Account Management major.
Judges from around the country were brought into Des Moines to judge nearly 300 creative pieces in early January. Entries were judged on creativity, originality and creative strategy. In total, 25 Gold ADDY® Awards and 44 Silver ADDY® Awards were presented at the show. Those that won Gold ADDYs will have their entries automatically forwarded to the district level competition. 34 companies entered the competition.