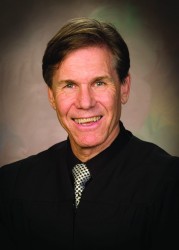 Chief Judge Randall Rader of the U.S. Court of Appeals for the Federal Circuit
On Monday, Feb. 20, the Intellectual Property Law Center at Drake University will celebrate its 5th anniversary. This event brings to campus judges, academics, practitioners and alumni in the intellectual property law field.



The 5th Anniversary Gala will be held at the Neal and Bea Smith Law Center Courtroom, 2400 University Ave, from 9 a.m. to 6 p.m. The final program and registration information are available online.



Serving as the distinguished keynote speaker is Chief Judge Randall Rader of the U.S. Court of Appeals for the Federal Circuit. Prior to his appointment to the Federal Circuit by President George H.W. Bush in 1990, he served on the U.S. Claims Court (now the U.S. Court of Federal Claims). He was also the Minority and Majority Chief Counsel to Subcommittees of the U.S. Senate Committee on the Judiciary and the Counsel in the House of Representatives for representatives serving on the Interior, Appropriations, and Ways and Means Committees.
Chief Judge Rader has taught courses on patent law and other advanced intellectual property courses at George Washington University Law School, University of Virginia School of Law, Georgetown University Law Center, the Munich Intellectual Property Law Center and university programs in Tokyo, Taipei, New Delhi and Beijing.
The Intellectual Property Law Center at Drake University was founded in fall 2007 by Professor Peter K. Yu, the Kern Family Chair in Intellectual Property Law. The center was established with the generous support of a $1.5 million gift from Wayne, LW'72, and Donna Kern and a $750,000 leadership commitment from Pioneer Hi-Bred International, Inc., a subsidiary of DuPont.
In the past three years, peer surveys conducted by U.S. News and World Report have ranked the Center consistently among the top 25 intellectual property law programs in the United States and one of the top five programs in the Midwest.
"We are looking forward to celebrating this important milestone with our alumni and friends," says Yu. "We are also very honored to have Chief Judge Rader joining us for this historic event."
In addition to leading scholars in the patent field, the 5th Anniversary Gala will feature a dozen of Drake Law's graduates practicing in the intellectual property field:
* Gregg C. Brown, Esq. (PH'1978, LW'82), Vice President, Intellectual Property Legal, Alcon Laboratories, Inc.

* Kirk Goodwin, Esq. (LW'99), Senior Counsel, Patents, Whirlpool Corporation

* Prof. Rita S. Heimes (LW'93), University of Maine School of Law

* Wendy K. Marsh, Esq. (PH'1990, LW'94), Shareholder, Nyemaster, Goode, West, Hansell & O'Brien, PC

* Daniel McCracken, Esq. (LW'06), Patent Examiner, United States Patent and Trademark Office

* Philip Petti, Esq. (LW'85), Chief Intellectual Property Counsel, USG Corp.

* Dana Rewoldt, Esq. (LW'87), Sr. Patent Attorney, Syngenta Biotechnology, Inc.

* John A. Rissman, Esq. (LW'78), Managing Partner, Rissman Hendricks & Oliverio LLP, Boston

* Edmund J. Sease, Esq. (BA'64, LW'67), Partner, McKee, Voorhees & Sease, PLC & Adjunct Professor, Drake University Law School

* Kent Stevens, Esq. (AS'81, LW'84, GR'84), Special Counsel, Cadwalader, Wickersham & Taft LLP, Washington, D.C.

* Peter C. Stomma, Esq. (LW'91), President. Boyle Fredrickson SC, Milwaukee

* Todd A. Van Thomme, Esq. (LW'97), Partner, Price Heneveld LLP, Grand Rapids
A registration fee of $100 includes breakfast, lunch and coffee breaks. The fee is waived for Drake faculty and students. Continuing Legal Education credits will be provided.
For more information, contact Melanie Carlson at 515-271-2141 or melanie.carlson@drake.edu.