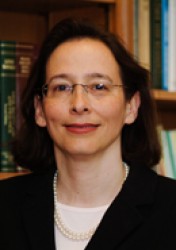 Pamela Karlan
The Drake University Constitutional Law Center will host Pamela Karlan, professor of public interest law at Stanford Law School, on Feb. 16. The lecture will be held in Cartwright Hall, Room 213 from 3 to 4 p.m. and is free and open to the public.
Professor Karlan is the co-director of the Supreme Court Litigation Clinic at Stanford Law School and is well known nationwide for her work in constitutional law and litigation. She was on President Obama's short list of nominees for the Supreme Court in August 2010.
Part of the Constitutional Law Center Distinguished Lecture Series, Karlan will speak on "The Transformation of Judicial Restraint."
The Drake Constitutional Law Center is one of only four constitutional law programs established by the U.S. Congress and is funded by the federal government. The Center's mission is to foster study of the U.S. Constitution, its roots, formation, principles and development.
The Constitutional Law Center invites the nation's leading constitutional scholars to Drake Law School to engage students and faculty in discussions about current issues. Speakers deliver a formal lecture, teach a class, and meet with students informally. For more information, click here.