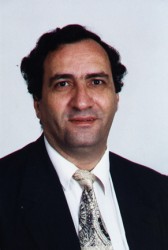 Markam Haluani
Makram Haluani, professor emeritus of political science and international relations at Simon Bolivar University in Venezuela, will speak at Drake on Feb. 9 at 7 p.m. The lecture, which is free and open to the public, will take place in the Olmsted Center's Bulldog Theatre.
Haluani will speak on "Separating Smoke from Fire: National and Hemispheric Impact of Mexico's Drug-War."
Currently a visiting Fullbright Scholar at the University of Connecticut, Haluani has published three books and numerous articles on topics relating to domestic and international politics in the Americas.
This lecture is supported by the Principal Financial Group Center for Global Citizenship and the Fullbright Visiting Scholar program.
For more information on Haluani's presentation, contact David Skidmore at david.skidmore@drake.edu or 515-271-3843.