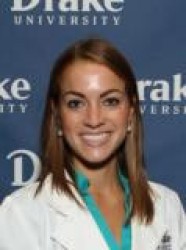 Sarah Thune
Sarah Thune, a student in the Drake College of Pharmacy and Health Sciences, was recently awarded the Leonard J. DeMino Pharmacy Student Scholarship. The scholarship was part of the National Association of Chain Drug Stores (NACDS) Foundation Pharmacy Student Scholarship Program, which identifies and recognizes the next generation of pharmacy leaders during their pursuit of academic success and educational goals.
"It is a huge honor to know that I was one of two pharmacy students nationwide that was selected to receive a Leonard J. DeMino Pharmacy Student Scholarship from the NACDS Foundation," said Thune. "It means a lot to me to be recognized for my hard work and accomplishments. For Drake University, it means recognition for being an outstanding university and pharmacy school."
This year, the Foundation awarded 58 scholarships""totaling $190,000″"to pharmacy students around the country. Of these recipients, Thune was one of just eight students chosen to receive named scholarships, which honor distinguished pharmacy leaders and companies that share the NACDS Foundation's commitment to education, research and charitable work.
Kathleen Jaeger, NACDS Foundation President, says, "As the future of pharmacy, we applaud these students for their academic accomplishments, and are delighted to honor these exceptional students with scholarships to assist them in continuing their pharmacy education."
The NACDS Foundation is a non-profit charitable organization that serves to improve the health and wellness of the people in America. It utilizes education, research, and charitable involvement to help people improve their health and quality of life through an understanding of medication therapy and the importance of taking medications appropriately.
More information on the NACDS Foundation and a full list of 2011 scholarship recipients can be found at http://www.nacdsfoundation.org.