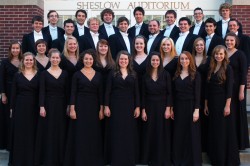 The Drake Chamber Choir has been selected to give a performance at the 2012 North Central American Choral Directors Association conference, which takes place Feb. 8-11 in Madison, Wisc.
Drake was chosen to be one of 14 ensembles to perform at the event from over 90 candidate groups in the six-state North Central Division. This will be the University's third appearance at the conference. The choir will sing on Feb. 10, at 3:45 p.m. in the acclaimed Overture Center for the Arts. Madison area alumni can purchase tickets for $5 at the Overture's box office.
The Chamber Choir will also provide an opportunity for the Drake community and interested Des Moines listeners to hear the program on Thursday, Feb. 2. The performance, which will be free and open to the public, will be held from 4:30 p.m. – 5 p.m. in Sheslow Auditorium on the Drake University campus.
Aimee Beckmann-Collier, director of choral studies at Drake University, says, "I've been describing this as the second greatest honor that any American choir could have; the only thing better would be to sing at the national conference."
The Drake Chamber Choir is the University's most select choir, consisting of 30 students with majors in music and other academic disciplines. The ensemble performs a number of on-campus concerts each year along with regional and international tours, and is the featured ensemble at Drake's annual Madrigal Dinners. The Chamber Choir has performed throughout central and western Europe, and will be performing in Ireland and Wales in May.
For more information, contact Aimee Beckmann-Collier 515-271-2841 or aimee.beckmann-collier@drake.edu.
More information about the conference can be found at http://ncacda.org/beyond-notes-2012-conference.