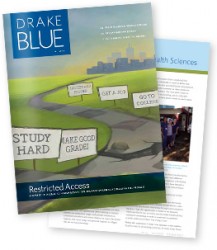 For the complete article, click on the link below.
Updates regarding how the Drake University College of Pharmacy and Health Sciences is incorporating international education in both the experiential and didactic curriculum were published in the current issue of Drake Blue magazine.
International experiences were initiated in Drake's pharmacy program in 1997 when three students ventured to Australia for a four-week community pharmacy practice experience. And now this academic year the doctor of pharmacy program will have 32 students completing elective, international experiences in six different countries on four different continents.
The largest growth in the international offerings has come from the College of Pharmacy and Health Sciences' partnership with Hillside International Healthcare in the Toledo District of Belize. Hillside International was established to supplement the national health care system in Belize and provides care through a permanent clinic facility, mobile outreach clinics, community health worker training, and community education for villages and school children.
A pharmacy rotation at this location was initiated following a visit to the clinic in 2008 by Denise Soltis, assistant dean for clinical affairs; June Johnson, professor of pharmacy practice and department chair; and a faculty member from the University of Wisconsin. Through this multicultural and interdisciplinary experience, pharmacy students work closely with medical students from other colleges and universities from not only the U.S. but also the United Kingdom, New Zealand, Germany and Austria. Drake PharmD students use their professional training to counsel patients on medication usage; and provide education to community members and school children on topics like dental hygiene, safe water usage and personal hygiene in villages that do not have plumbing.
Soltis says, "Personally my experience has been transformative. I have learned how to better communicate with different cultures, be creative in therapy to care for patients with limited resources, and demonstrate more patience. I have learned to appreciate the simple things in life that in the United States we take for granted."
To learn more about international education in Drake's College of Pharmacy and Health Sciences, and for the complete article.