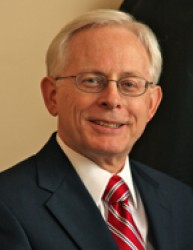 Drake University Law School Professor and former Associate Dean Russell Lovell recently returned from a two-month trip to China's Southwest University of Political Science & Law (SWUPL), where he delivered a series of lectures on a wide range of legal topics.
The series, hosted by SWUPL's Economic Law School and Foreign Affairs Office, focused on comparisons between American and Chinese law, especially within the countries' labor laws.
"On each of my four visits to China I have found the students eager to learn about American law and culture," Lovell says. "They are not shy about asking questions, and the faculty and staff were very welcoming to me."
SWUPL is located in the city of Chongqing, which with 28.8 million people, is more populous than New York City. Lovell says it is likely "the largest city in the world that nobody in America has heard of." He also notes that SWUPL is home to several law schools, which together are ranked seventh among Chinese law schools.
Lovell estimated that audiences of his six lectures ranged from 30 to 250 law students. Several SWUPL professors translated the lectures, which covered topics such as equal opportunity employment law, protection against sexual harassment and public interest litigation.
Lovell also conducted two roundtable discussions to facilitate interaction and dialogue. He first met with students and faculty to compare American and Chinese equal employment laws, and later with judges from the local district to discuss court procedures and remedies.
"The judges were impressed that Drake Law faculty are not only scholars but also lawyers who have actually practiced law," Lovell said.
The Department of Labor and Social Security Law and the Juris Master School of SWUPL organized the lectures and discussions. Lovell also met with SWUPL Vice-President Liu Jun to discuss further interaction between the universities, including possible study abroad trips.
Lovell's sabbatical trip does not represent the only interaction between the two universities, however. Lovell also met with three Drake Law School graduates who are currently in SWUPL's International Fellowship program, and four SWUPL professors who were previously visiting scholars at Drake.
To learn more about Professor Lovell's sabbatical, read the SWUPL news release.
For more information about Drake University Law School, please visit http://law.drake.edu or call 515.271.2824.