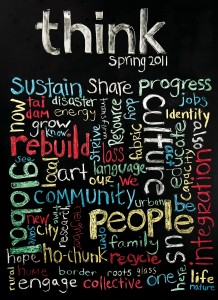 Drake University's journalism capstone publication, Think, recently won an Associated Collegiate Press Pacemaker Award. News/Internet and magazine majors produce the newsmagazine as a semester-long project during their senior year.
Think Art Director Allison Maze won first place for magazine cover in the same contest. Holly Worthy, Afsaneh Zaeri and Jeff Glaze won honorable mentions in the category of story of the year.
The 2011 editor in chief was Riane Menardi, who now works at Torsion Mobile in Des Moines.
"We took some chances with this issue of Think, and it is truly rewarding to see them recognized," Menardi said. "We set out to make a magazine that would challenge our readers, which I think we did—with our stories and design. Winning first place for our cover and having three of our writers receive honorable mentions shows the depth of talent on this staff. I'm so proud of what we accomplished as a team, and it's so exciting to carry on Think's legacy as a quality, Pacemaker-winning magazine."
Think has been a Pacemaker finalist four times since its inception five years ago, winning the top honor in 2007, 2010 and again this year.
"That's an extraordinary run of success," said assistant professor Jill Van Wyke. "It's a credit to the student staffs, to the journalism faculty, and to the faculty across the university who help mold such well-rounded journalists."
Maze, who is now on the staff of Meredith Corp.'s BHG.com, said Think's staff wanted to create a magazine that was "relevant, engaging, and a bit unexpected."
"Think's cover took us all by surprise," she said. "It was born out of a 4 a.m. doodle session on a classroom blackboard. We married our photo essay's concept of art as a public forum with an actual cloud featuring our magazine's most frequently used words, then freehanded the cover with chalk. There was a lot of concern about our design approach, what with not using an image and cover blurbs, but we really fought to stray the path and take a chance on this one—and it worked."
Each year, the Associated Collegiate Press honors the best in college publishing. ACP is a division of the National Scholastic Press Association, which provides journalism education services to students, teachers, media advisers and others throughout the United States and in other countries.
ACP's recognition of Think comes on the heels of other national recognitions:
In the Association for Education in Journalism and Mass Communication student magazine contest, Think won first place for general excellence and design, and second place for editorial excellence.
In the College Media Advisers Best of Collegiate Design contest, Think won second place for magazine cover. Drake's Urban Plains magazine won first place.
Think is produced with support from the Meredith family and Meredith Corporation.