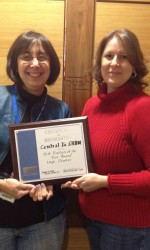 Dr. Cris Wildermuth receives award for volunteer activities.
At this year's Iowa Society for Human Resources Management (SHRM) Leadership Conference, the Central Iowa chapter received a Best Practices of the Year Award for its HR Development Program. This successful HR Development Program was co-sponsored by Drake University, the Central Iowa SHRM and the SHRM State Council and co-developed by Dr. Cris Wildermuth (Assistant Professor Adult Learning and Performance System at Drake University) and Sarah Walker (Director of Certification for the Central Iowa SHRM). Drake ALOP students Paula Leal, Denis LeRoy, Kathy Frank and Liz Tmlin-Travis joined the planning committee and helped design the program's activities. Paula Leal and Denis LeRoy were the program's MCs and Dr. Wildermuth presented a case study on Ethics and Training & Development.
During the Leadership Conference, Dr. Cris Wildermuth also received an award for her volunteer activities in promoting the certification of HR professionals in the state of Iowa.