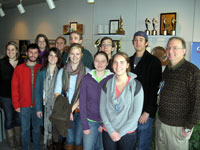 Award winning IPTV Producer-Director Dave Miller (near-right in the photo) hosted the JMC100 Field Photography class for a tour and conversation.
Miller, the producer of the syndicated weekly "Market to Market" program, told students the network's conversion to digital high-definition cost about $40-million. The 1982 Drake speech major has worked for IPTV 27 years, starting as a production assistant.
Students visited the large tape storage area, main studio, control and editing areas, and the Maytag theater, where staff was preparing for a friend-raising push later this week.
During this pre-Caucus period, IPTV will produce half-hour programs with each of the Republican presidential candidates. Miller said the programs will stream "live" and then be formatted for traditional on-air play.
Miller has guided at least 17 of these JMC100 visits since 1999.