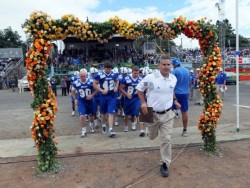 A documentary highlighting the
Global Kilimanjaro Bowl
, the first-ever American college football game on African soil, will air tonight on CBS Sports Network at 6 p.m. CST.
The broadcast highlights the May 2011 Kili Bowl, which featured football players from Drake University and the CONADEIP All-Stars from Mexico.
The broadcast comes a week after the Drake University football program, whose players, coaches and staff participated in the life-changing event, celebrated winning a share of the 2011 Pioneer Football League Championship.
"Our trip to Tanzania had a major impact on our championship season," said head coach Chris Creighton. "We all grew as individuals and as a team as we were stretched in ways we had never before experienced."
CBS Sports Network is seen in more than 44 million homes and available to 98 million households. For the full network schedule and to access the CBS Sports Network Channel Finder, go to www.cbssportsnetwork.com.



In addition to featuring game footage, the documentary showcases the service efforts of the student athletes working in orphanages, wildlife safari outings and the climb to the summit of Mount Kilimanjaro, where 117 group members proudly hoisted the national flags of the United States, Mexico and Tanzania.
The Kili Bowl event and one-hour documentary were produced by Global Football, with Patrick Steenberge as executive director and Tim Brockman serving as director. Brockman has more than two decades of experience producing outdoor programs for various networks in the U.S. and overseas.