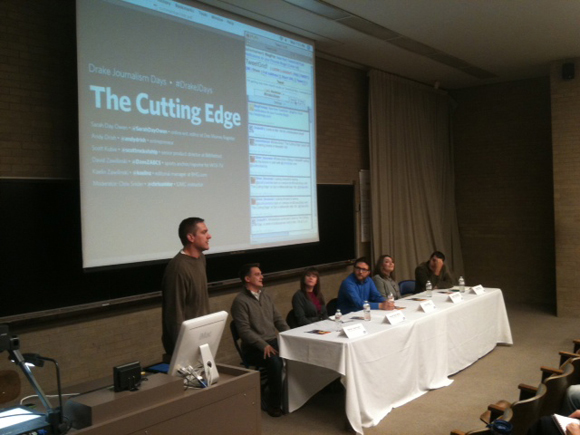 On Wednesday evening, about 60 students gathered in Meredith Hall to participate in a panel discussion called "The Cutting Edge" with five professionals from the Des Moines area. The panelists included David Zawilinski, sports anchor and reporter for WOI-TV; his wife, Kaelin Zawilinski, editorial manager at BHG.com; Sarah Day Owen, online entertainment editor for the Des Moines Register; Scott Kubie, senior product director at BitMethod; and Andy Drish, online marketing entrepreneur.
For an hour, the panelists talked about their experiences in college and the professional world. Students could freely ask questions or live tweet questions using the hashtag #drakejdays.
Panelists offered students advice on everything from getting internships to personal branding. "Once you get out of (Drake) no one cares about your major or what your GPA was. You can do whatever you want," said Kubie.
Kaelin Zawilinski politely disagreed, "I look at journalism majors first, so it does give you a step up. But you can make it what you want." She also said that it's never too early to start getting experience, and that many companies in the Des Moines area are very keen on Drake students. "We love to help our Drake friends," she said.
Most of the panelists agreed that internships are one of the keys to success. "It's who you know to get the job and what you know to keep it," David Zawilinski said.
The panel also discussed the changing world of journalism and social media. "What's cool about media is that anyone can do it," Kubie said. The app developer also encouraged students to try out every new social media site and follow blogs. "Look a little further (online), it's all right there."
Kaelin Zawilinski emphasized that students should get on the budding site Pinterest.com. "It's definitely the next big thing."
To end the session, the panelists talked about the importance of personal branding, specifically how students use sites like Facebook and Twitter to make a name for themselves.
Kubie joked that while most professors emphasize hiding pictures of drinking or parties, he would be worried if he didn't see photos of a potential employee at a party. "I'm going to think, Wow, you're lame."
His comments drew laughs from the audience, who seemed to be interested in Kubie's opinion. "Don't be a dork. People can see right through you if you're lying. Be yourself. If somebody doesn't like me, then I don't want to work there."
After the panel was over, students had the opportunity to meet and ask the panelists questions one-on-one.
– Katie Minnick