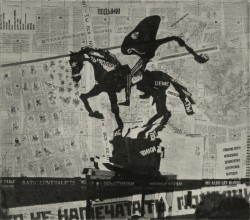 Untitled photogravure from Nose Portfolio, 2010
The Anderson Gallery's upcoming exhibition, "William Kentridge: Collaborations with Randy Hemminghaus" explores the creative relationship between artist and master printmaker Randy Hemminghaus, and the internationally acclaimed South African artist William Kentridge.
William Kentridge has been called one of the most compelling interdisciplinary artists of our time. Born in Johannesburg, South Africa in 1955, Kentridge blurs the boundaries between the disciplines of drawing, print, film, sculpture and performance.
The exhibition, which opens on November 11th, features more than 30 prints from projects completed through recent collaboration between Kentridge and Hemminghaus. Works include recently printed photogravures from the "Scribe" and "Nose" series, as well as a series of drypoints from the "Thinking Aloud (Small Thoughts)" portfolio. Kentridge's interest in optics and visual perception is evident in the series of six stereoscopic photogravures included in the show, displayed in the gallery with a viewing device manufactured specifically for the series.
Randy Hemminghaus is currently the Master Printer at the Brodsky Center for Innovative Editions at Rutgers, The State University of New Jersey. Hemminghaus began collaborating with Kentridge in 2000, and since then has printed several portfolios of the artist's work. Hemminghaus printed all of the work on display in the exhibition through close collaboration with Kentridge. Their creative process and artistic relationship will be the topic of a public discussion on November 17.


Randy Hemminghaus to visit Drake University
Randy Hemminghaus will discuss the works on exhibition alongside Phillip Chen, printmaker and Drake University professor of art, at a talk on Thursday, November 17. The talk, titled "The Creative Collaborative Process," will begin at 6 p.m. in the Anderson Gallery, 2505 Carpenter Ave. Hemminghaus and Chen will explore the relationship between collaborating artists, using Hemminghaus and Kentridge's relationship as a stepping-off point for a larger discussion.
Regular Anderson Gallery hours are Tuesday through Sunday, noon to 4 p.m. and by appointment. "William Kentridge: Collaborations with Randy Hemminghaus" closes Friday, December 16th.
Visit www.drake.edu/andersongallery for more information.



Anderson Gallery Film Series
New this year, the Anderson Gallery is offering a film series organized in conjunction with the exhibition season. Films are chosen based on the themes of the exhibition currently on view. All film screenings are free and open to the public.
Anderson Gallery will present a screening of William Kentridge: Anything Is Possible on Thursday, December 1 in conjunction with the current exhibition. The film will begin at 6:30 p.m. in Bulldog Theater, located in the lower level of the Olmsted Center, 2875 University Ave. Anything Is Possible was produced by PBS as part of the Art:21 series and released in 2010. The film documents the creative process of the artist through exclusive interviews and intimate studio footage. Visit www. Art21.org/anythingispossible for more information on the film.