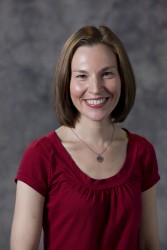 Mary McCarthy
Dr. Mary McCarthy, assistant professor of politics and international relations, was recently selected for the Maureen and Mike Mansfield Foundation and the Japan Foundation Center for Global Partnership "U.S.-Japan Network for the Future" program.
The purpose of the "U.S.-Japan Network for the Future" program, which launched in 2009, is to identify American professionals who demonstrate an interest in and potential for becoming Japan specialists and policy intellectuals and to support them in this effort. The network will include Japan specialists from all regions of the U.S. with diverse expertise and perspectives and the ability to participate constructively in the bilateral policymaking process and to contribute to U.S.-Japan understanding.
"My participation in this program will help both my research and teaching at Drake, said McCarthy. "I am currently working on a project on US government responses to historical revisionism in Japan since 2001. U.S.-Japan relations is a new area of inquiry for me, so this program will help to enrich and expand my research. This program will also help to enhance my teaching."

Dr. McCarthy teaches two courses related to Japan: "The Government and Politics of Japan" and "Japan and the World: Issues of War and Memory."

Dr. McCarthy said she looks forward to sharing information gained through this program with scholars across Iowa Universities.

"This will be a good opportunity to further my knowledge, which I will then bring back to our community in central Iowa to help to make us a center of learning on Japan," she said.

The two-year program, which involves a study trip to Japan, seeks to nurture a new generation of scholars and professionals working on the following policy areas: U.S.-Japan security relations; U.S.-Japan economic relations; regional cooperation; issues where the two countries confront common domestic challenges (such as aging societies or income inequality); and issues where the two countries have opportunities to work together to resolve global challenges (such as climate change or food security).
The Maureen and Mike Mansfield Foundation is a 501(c) 3 organization that promotes understanding and cooperation in U.S.-Asia relations through exchanges, dialogues, research and educational programs, which create networks among U.S. and Asian leaders, explore the underlying issues influencing public policies, and increase awareness about the nations and peoples of Asia.
The Center for Global Partnership (CGP) is a part of the Japan Foundation, which is a Japanese Independent Administrative Institution. To enhance dialogue and interchange between Japanese and U.S. citizens on a wide range of issues, CGP operates grant programs as well as self-initiated projects and fellowships.