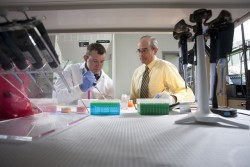 The healthcare landscape is changing and, with the exciting addition of two new laboratories, the Drake University College of Pharmacy and Health Sciences is poised to take a leadership role.
In today's "one size fits all" healthcare experience, one patient's successful drug therapy is another's prescription for harmful negative side effects. But in the cutting edge field of personalized medicine (pharmacogenomics), researchers are studying how an individual's genetics affect the body's response to drugs, and how medical professionals can use that knowledge to match patients with the best available treatment from the beginning.
In Drake's new Pharmacogenomics laboratory, students, faculty and community health professionals will work together to understand — and potentially break new ground — in the field.
Drake's new Disease Prevention Lab will also extend research opportunities and help meet growing demands of an aging population by preparing students to pursue careers in fields such as physical therapy, exercise, medical physiology and others.
"These labs are going to broaden our horizons tremendously," says Raylene Rospond, deputy provost and dean of the College of Pharmacy and Health Sciences. "Collaboration with researchers from Mercy Medical Center, Broadlawns Medical Center and Des Moines University will also open up opportunities for students."
Creation of these facilities was supported by a generous gift from Jack Ellis, PH'57, a grant from Grow Iowa Values, the CPHS Harris endowment, CPHS technology fees, and a federal appropriation directed at purchasing equipment.


A Detailed Treatment
"We are training pharmacists and health sciences graduates who are going to play a very critical role in making the field of personalized medicine a success," says Pramod Mahajan, associate professor of pharmaceutical sciences and the author of the grant proposal. Mahajan teaches an elective course in pharmacogenomics.
In pharmacogenomics, pharmacists and health professionals analyze a patient's DNA, and then use that information to optimize a treatment plan. The goal is better healthcare — and reduction of side effects.
"Healthcare employers are looking for people with expertise in this area," he says. "Students who will be trained in pharmacogenomics will have a greater marketability."
The new pharmacogenomics lab places Drake's College of Pharmacy and Health Sciences at the leading edge of the discipline.
"A facility like this helps us remain competitive in the next realm," Rospond says. "In pharmacy, it places us in a unique position among our peers. It allows us to expand and move forward in a positive way."


Ahead of the Curve
Focusing on prevention, the Disease Prevention Laboratory allows students to evaluate patients physiologically, gathering data such as blood pressure, heart rate, cholesterol, bone density, range of motion and lung volume. Students will use the tools to evaluate one another and, ideally, conduct wellness screenings for real patients from central Iowa hospitals.
"These are major additions," Rospond says. "These state-of-the-art pieces of equipment prepare students for graduate studies in the health sciences in areas such as physical therapy and physician assistant studies."
One highlight technology new to the lab is BodyViz, a computer program navigated with an Xbox controller.
"I can travel through the spinal column and show what the inside of a spinal cord looks like," says Rhonda Beemer, director of health sciences experiential education.
The BodyViz program explores real MRIs — not simulations — and provides comprehensive exposure to anatomy as an alternative to a cadaver lab.
Building on past success



This project represents a significant investment in Des Moines and Iowa's healthcare system and economy. Maintaining the excellence of Drake University's pharmacy and health sciences programs is vital to attracting the very best students.
By creating innovative community programs and using technology to improve health outcomes, Drake is also working to elevate the practice and delivery of healthcare in the area and provide further incentive for graduates to remain in central Iowa.
"The College of Pharmacy and Health Sciences continues to realize its vision, which is to uphold its tradition of preparing individuals to meet the expectation and challenges of healthcare, while being recognized for its innovation and boldly pursuing breakthrough achievements in teaching, research, scholarship and service," Rospond said.
The creation of the Ellis Pharmacogenomics and Disease Prevention Laboratories provides Drake's faculty and students in the College of Pharmacy a distinctive advantage as it advances these burgeoning fields of healthcare.
The Des Moines Register recently featured the lab in a story titled "On campus: Drake's cutting-edge lab excites pharmacy students," which highlighted the lab's ability to provide the next generation of pharmacists with training in the expanding area of pharmacogenomics, the study of how variations in genes affect the response to medications.
"The lab helps students to understand the approach for drug therapy," said Vincent Lau, vice president of research and graduate education for the American Association of Colleges of Pharmacy.