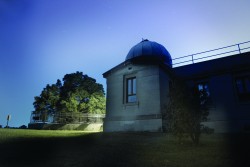 On Saturday, October 29, Charles Nelson, Paul Wilson, Michael Curry and Athan Petridis will share their talents in "Guitars Under the Stars," a unique event that will combine history, music and astronomy.
The event, which is free and open to the public, will be held at 8 p.m. at the Drake Municipal Observatory, 4898 Observatory Rd. in Waveland Park on Des Moines' west side.
Charles Nelson, director of the observatory and Drake University associate professor of physics and astronomy, will begin with an introduction to the observatory history and functions.
Following Nelson, guitarists Paul Wilson and Michael Curry along with Athan Petridis, associate professor of physics at Drake, will give a classical guitar concert.
Wilson, who studied guitar with Andres Segovia and Christopher Parkening, owns Ye Olde Guitar Shoppe in Urbandale. Both Wilson and Curry teach at the shop and also build guitars.
"With this event we are trying to show that astronomy (science, in general) and music"¬ (art, in general) are not completely disjoint activities," says Petridis, "One can be inspired by the other and one person could be involved in both." Some of the concert selections will even be compositions by scientists.
Nelson will conclude the event with a tour of the facility and astronomical observations using the historical refractor telescope and participation of the audience.
Guitars Under the Stars is Petridis, Nelson, Wilson and Curry's first attempt at an astronomy and music event, but they hope to host them again.
"In the end, we want everyone to have a good time," says Petridis.
For more information, contact Athan Petridis at athan.petridis@drake.edu or 515-271-3723