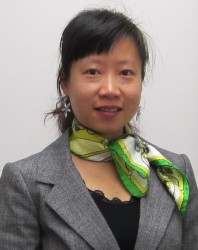 Chen Gong
Chen Gong, associate professor of law at Sichuan International Studies University, will give a lecture on U.S. trade relations with China at 1 p.m. on Thursday, Oct. 13.
The lecture, titled "Fast-Track/Trade Promotion Authority and U.S.-China Free Trade Agreement" is free and open to the public and will take place in Cartwright Hall Room 206, 2621 Carpenter Ave.
Gong, the first Chinese scholar to conduct in-depth research on U.S. fast-track or trade promotion authority negotiations (TPA), will focus her lecture on the role of TPA in free trade negotiations with China and the economic relationship between the two countries.
Currently a post-doctoral research scholar with professor Hunter R. Clark at Drake University Law School, Gong specializes in international and constitutional law as well as cultural heritage and art policy. She has also been a leading developer of the Teach in China program at Drake.Her post-doctoral research program is supported by Chinese government, China Scholarship Council (CSC).
Before she came to Drake, Gong taught international economic law, contract law, and China foreign economic law at SISU. She earned her B.A. from Sichuan International Studies University and her Master of Law and Ph.D. from Southwest University of Political Science and Law (China).