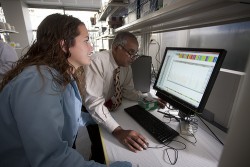 Pramod Mahajan with CPHS student
Pharmacogenomics (PGx) is a newly formed discipline of health science that delineates how genes affect the way individuals respond to drugs. In the very short span of its existence, PGx has made a major impact from drug discovery and development to predicting patients' drug response and disease susceptibility, thereby rapidly evolving into the discipline of 'personalized medicine.'
This innovation requires a health-care workforce that can translate these scientific discoveries into everyday practices at neighborhood pharmacies, hospitals and senior centers. Drake University has addressed this need with a new Pharmacogenomics Training and Research Laboratory, made possible by two recent grants awarded to Pramod Mahajan by the Grow Iowa Values Fund and the Department of Health and Human Services.
Drake's new lab puts the university at the cutting edge of the field of Pharmacology, while providing unique training and educational opportunities for participating students. In addition, the lab will serve as a central facility for university researchers to acquire access to molecular, genomic and bioinformatics technologies, as well as a facility for providing "for fee' training, consultation and technical assistance to Central organizations/institutions engaged in health care service and research.
This project represents an investment in Iowa's and the City of Des Moines' economic vitality and healthcare system. Maintaining the excellence of Drake University's Pharmacy and Health Sciences programs is important to attracting the best students in Iowa. In addition, by creating innovative community programs and using technology to improve health outcomes, we hope to elevate the practice and delivery of healthcare within the city and the state and thereby provide further incentive for graduates to remain in Iowa.