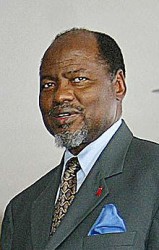 Joaquim Chissano, former president of Mozambique, will give a lecture titled "Democracy, Development and Africa's Future" at 2 p.m. Wednesday, Oct. 12. The lecture, which is free and open to the public, will take place in the Reading Room at Cowles Library, 2507 University Ave.
Chissano served as Mozambique's head of state between 1986 and 2005. During that time, he led transformational socio-economic reforms and ended a 16-year civil war through peaceful negotiations.
Since stepping down from the presidency, Chissano has been appointed Special Envoy to Areas Affected by the Lord's Resistance Army by the United Nations and has worked with numerous organizations to promote development and peace in Africa.
Currently, he chairs the Joaquim Chissano Foundation, a private, non-profit organization that aims to combat poverty, hunger and conflict in Mozambique. Chissano also chairs the Forum of Former African Heads of State and Government.
In 2007, he was awarded the inaugural Prize for Achievement in African Leadership by the Mo Ibrahim Foundation. The award recognizes former heads of African nations who exhibit excellent leadership and governance.
The lecture is part of The Principal Financial Group Center for Global Citizenship Fall 2011 Speaker and Film Series. It is co-sponsored by The Principal Financial Group Center for Global Citizenship at Drake University, World Food Prize, and the Drake University African Student Association.
For more information, contact David Skidmore at 515-271-3843 or david.skidmore@drake.edu