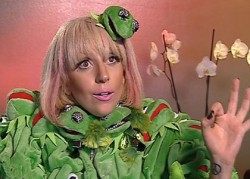 Lady Gaga is the subject of a lecture presented as part of Drake's Humanities Colloquium series.
Drake University's Center for the Humanities sponsors a colloquium series that features faculty presentations. The Friday afternoon events, which are free and open to the public, will begin at 3:30 p.m. in Medbury Honors Lounge, 2730 Forest Ave.
The series will continue with the following presentations:
Oct. 21 — Martin Roth, assistant professor of philosophy, will deliver a lecture titled "Lady Gaga Meets Daniel Dennett: Towards a Fame Monster Theory of Consciousness."
Roth will explore the ways in which Lady Gaga eludes societal expectations. He will explain that recent developments in cognitive science suggest that her
elusiveness reflects important and surprising
features about the conscious self.
Nov. 11 — Karl Schaefer, professor of librarianship, will discuss "Arabic Block Printing Reconsidered: Technology and 'Pre-modernity' in Medieval Arabic Society."
Schaefer will historically contextualize the craft of medieval Arabic block printing as an evolutionary stage in printing technology.


Dec. 2 — Jeff Karnicky, associate professor of English, will analyze "Truth and Testimony in Bret Easton Ellis' 'Lunar Park.'"
Drawing on critical literary theory written by Maurice Blanchot and Jacques Derrida, Karnicky will focus on the connections among fiction, testimony and haunting in the 2005 novel 'Lunar Park.'

The series kicked off with a Sept. 23 lecture by Steven Faux,
associate professor of psychology, titled "Human
Altruism in Evolutionary Perspective and the Role of Religion in
Science."

Faux addressed the relationship between altruism and evolutionary
science, as well as the biological basis for human cooperation. The
lecture also explored how evolutionary theorists struggle to
reconcile their theories of altruism with their personal religious
beliefs.
For more information about the series, contact Tim Knepper, associate
professor of philosophy, at 515-271-2167 or tim.knepper@drake.edu.