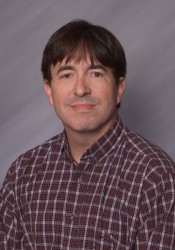 David Skidmore
David Skidmore will present a lecture titled "The Rise of China and the United States" at 7:30 p.m. Monday, Sept. 19. Skidmore is professor of politics and international relations and director of the Principal Financial Group Center for Global Citizenship.
The lecture, which is free and open to the public, will take place in Bulldog Theater on the lower level of Olmsted Center, 2875 University Ave.
"The Rise of China and the United States" will draw on Skidmore's experience as a Fulbright Scholar at the University of Hong Kong this past year. He worked on general education reform across Hong Kong's higher education sector and traveled extensively in China and Southeast Asia, speaking with faculty, diplomats, and business and political leaders about the future of China and its relations with the United States.
"Power transition theory suggests that the risks of major power conflict peak at that point when a rising challenger threatens to surpass the existing dominant state in power," Skidmore says. His lecture will focus on the question of what the rise of China will mean for the United States.
Conflict between the two countries, he says, will depend upon trends in national power, China's attitude toward the international order, and the diplomatic efforts of American and Chinese leaders.
Skidmore's background in US-China relations also includes a teaching appointment at the Johns Hopkins-Nanjing University Center for Chinese and American Studies in Nanjing, China in 1996-97.
Skidmore received his Ph.D. degree from Stanford University and taught at Hamilton College and the University of Notre Dame before arriving at Drake in 1989. His research and teaching interests lie in the areas of international political economy, American foreign policy and international relations theory.
For more information, contact David Skidmore at 515-271-3843 or david.skidmore@drake.edu