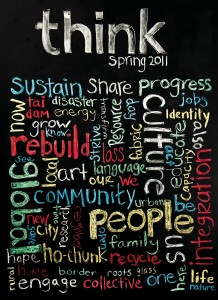 Think, a news magazine produced by seniors in Drake University's School of Journalism and Mass Communication, was named a Pacemaker finalist today for the fourth time in five years.
The Pacemaker is considered the top award in college media and is bestowed by the Associated Collegiate Press. Winners will be announced in late October. This year's feature magazines were judged by The Atlantic.
The magazine is also a finalist in the design category for news magazine cover.
Earlier in the week, ACP also recognized the work of individual journalism students: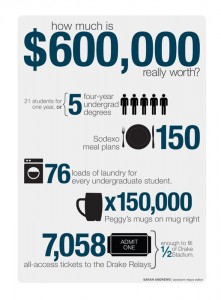 Honorable mention, feature story of the year:
Holly Worthy and Afsaneh Zaeri, Think, "Bringing Back the City"
Honorable mention, diversity story of the year:
Jeff Glaze, Think, "People of the Big Voice"
Abby Wolner, Drake Magazine, "Putting on the Glitz"
Honorable mention, infographic:
Sarah Andrews, Times-Delphic
Think was produced in a spring 2011 senior capstone class that combined magazine and news-Internet majors. Riane Menardi was editor-in-chief of Think; Allison Maze was art director. The class was taught by Lori Blachford, the Peggy Fisher and Larry Stelter chair of magazine journalism, and by assistant professor Jill Van Wyke.
Think is available at various locations around Des Moines, or you can read the digital version. The companion website is at www.thinkdsm.com
Think is produced with support from the Meredith family and Meredith Corporation.