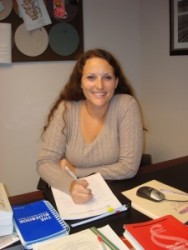 Elizabeth Dooley, LW'11
Collaboration and experiential learning are hallmarks of a Drake education. Faculty and staff work hard to ensure students have access to as many professional opportunities as possible "" and our students are always eager to take advantage of the options available to them.
These students are among the many whose demonstrated success highlights the benefits of Drake Law's approach to legal education.
Elizabeth Dooley
An article by Beth Dooley, LW'11, has been named as one of the best law review articles in its field published within the last year. Dooley's article, "Watch Where You're Steppin' Out Here: Why States Should Adopt Legislation to Promote the Diversified Farming Practice of Agritourism," was selected for inclusion in the 2011 edition of the Entertainment, Publishing and the Arts Handbook.
Dooley credits Drake's Dwight D. Opperman Chair of Law Neil Hamilton and the Drake Agricultural Law Center with helping her develop an interest in agritourism. She also praises the Drake Law School for preparing her for a legal career through practical experiences and writing-intensive courses.
"My experiences in the classroom and as the editor in chief of the Drake Journal of Agricultural Law really showed me the value of honing superior writing skills," Dooley says. "Effectively communicating ideas and making legal arguments is critical, invaluable and essential to the practice of law, and Drake emphasizes this practical side of legal writing."
Peter Blink
The American Board of Trial Advocates (ABOTA) recently recognized third-year Drake Law student Peter Blink for outstanding trial advocacy. The ABOTA based its decision on trial advocacy, mock trial success and actual courtroom performance.
Blink interned for the Polk County Attorney's Office as a prosecutor for two semesters. During his tenure, Blink tried a five-count, class-C felony case with fellow classmate and Student Bar Association President, Kevin Bell, LW'11. Under the supervision of an assistant county attorney, Blink and Bell were responsible for all aspects of the case. After they spent months examining boxes of computer equipment and papers to find necessary information to develop the case, Blink and Bell won a conviction on all five counts at trial.
"The opportunities for real-world legal experience that Drake Law has given me, have been invaluable," Blink states. "They have provided me with the confidence, skills and practical experience to graduate from law school with the ability to hit the ground running on day one of my legal career."
Kale Van Bruggen
Third-year law student Kale Van Bruggen's article, "Agriculture's Fate Under Climate Change: Economic and Environmental Imperatives for Action ," coauthored with John Moore, Senior Attorney at the Environmental Law and Policy Center in Chicago, was recently published in the Chicago-Kent Law Review. Van Bruggen interned with the Cente last summer.
Van Bruggen's article is about both the effect global warming has on agriculture and how agriculture contributes to global warming. It explains the proposed federal climate change legislation and advocates that agriculture would benefit from supporting the fight against global warming.