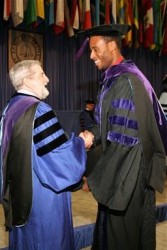 Dawone Robinson
A spider web crack in the window of a burned building might have signaled arson in the past, but today's professional fire investigators rely on more-scientific methods to analyze incidents. Whether the methods are made official policy is another matter.
Until recently Iowa lacked a formal policy for investigating, analyzing and rendering opinions as to the origin, cause, responsibility or prevention of fire and explosion incidents.
But thanks to the advocacy of Dawone Robinson, LW'11, Drake Law Innocence Project of Iowa legislative intern, the Iowa State Fire Marshall recently adopted official guidelines compliant with National Fire Protection Association 921, the gold standard for the field. The policy change was a major success for the organization and a testament to Robinson's passion for criminal justice reform.
Robinson chose to attend Drake Law School because he wanted to participate in the Center for Legislative Practice. It was CLP director Julie Smith, legislative lobbyist, attorney,and former Legislative Service Agency legal counsel, who connected Robinson with the internship at The Innocence Project of Iowa (IPI).
IPI is part of the national litigation and public policy organization Innocence Network,which is dedicated to exonerating wrongfully convicted people through DNA testing and reforming the criminal justice system to prevent future injustice. IPI was founded in 2007 by a group of attorneys, professors, and students committed to the prevention of wrongful convictions and the exoneration of innocent persons. The Project is the first innocence organization specifically focused on investigating Iowa cases and ensuring the integrity of the Iowa criminal justice system.
One of IPI's goals for the legislative session was the adoption of a resolution by the Iowa General Assembly related to fire investigations. After the resolution failed to pass, Robinson continued to pursue the organization's goal by working directly with the State Fire Marshal "" a conversation that led to a voluntary adoption of a formal policy on the guidelines to be used in fire investigations.
"This was probably a stronger result than our original goal of a general assembly resolution," says Innocence Project of Iowa President Brian Farrell.
To propose the policy changes, Robinson met with Ray Reynolds, Iowa State Fire Marshal Division director and a graduate of Drake's Certified Public Manager program.
"The fundamental mission of law enforcement is to carry out justice and be protectors of the public," Reynolds says. "It shouldn't be that we're out to get 'the bad guy.' We're out to investigate the crime impartially and safely and neutrally. I think a lot of times it's good to put that kind of language in policy to remind employees what we're here for. It's about justice; it's about doing things right."
Robinson is pleased that he and Reynolds could work together toward a common goal.
"Even though we were on two sides of the aisle, there were several issues we both thought made sense and both agreed with," he says.
In addition to guaranteeing the best applied science is used to investigate a fire, the policy changes also require records for investigations that end in conviction be kept indefinitely. (Previously, notes associated with investigations were destroyed after 15 years, making appeals nearly impossible.)
Robinson's work as a legislative intern resulted in concrete changes that will make a fundamental impact on the people the Innocence Project of Iowa represents.
"I work with law students on a daily basis," Farrell says. "It was fantastic to see the extent to which Dawone carried himself as a professional in this situation. I think it was exemplary of what we all want law students to do when they're working in internships in pro bono places."