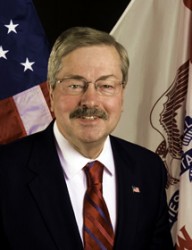 Iowa Governor Terry Branstad, LW'74
In July, the Agricultural Law Center at Drake Law School hosted two events designed to provide Iowans with information on responsible land ownership and agricultural production.
Experts in land tenancy, ownership and conservation discussed property enhancements with landowners at This Land Is Your Land, a conference co-sponsored by U.S. Farm Lease.
Speakers, including Iowa Governor Terry Branstad, LW'74, discussed land use and soil loss concerns, sustainable farm leasing, equitable lease arrangements, tax changes and land ownership responsibility.
Other presenters were:
Craig Cox, senior vice president for agriculture and natural resources, Environmental Working Group
Ed Cox, fellow, Drake Agricultural Law Center
Marvin Debner, CEO and partner, LWBJ Financial
Mark Gannon, founder, U.S. Farm Lease, Gannon Real Estate
Anita O'Gara, vice president for development and communications, Iowa Natural Heritage Foundation
The Drake Agricultural Law Center also hosted a free workshop for farmers and business owners that focused on the benefits of the United States Department of Agriculture (USDA) Value-Added Producer Grant program.
Representatives from USDA Rural Development presented information and addressed questions about the grants, which provide funds for planning activities, marketing value-added agricultural products and farm-based renewable energy initiatives.
Eligible applicants include independent producers, farmer and rancher cooperatives, agricultural producer groups and majority-controlled producer-based business ventures. Thanks to the grant program, $37 million will be available to applicants this year.
Bill Menner, Iowa director of USDA Rural Development, says that the grants benefit the state and its farmers in numerous ways.
"This grant program can help with the development of local foods systems and can spur the economy by supporting local producers," says Menner, who delivered closing remarks at the workshop.
"Iowans have always been very competitive in this grant program," says Neil Hamilton, professor of law and director of the Agriculture Law Center. "The Center hosted this workshop to encourage Iowans to prepare and submit applications to compete for these resources.