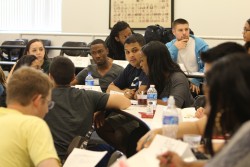 Participants in the CLEO Summer Regional Institute Held at Drake in July.
The Drake Law School and Des Moines legal community partnered this summer to provide a rigorous introduction to legal education for disadvantaged and minority students to help bolster their opportunities for law school success.
Forty-three promising pre-law students from across the country attended the 2011 Council on Legal Education Opportunities (CLEO) Summer Regional Institute held June 5 through July 15 at Drake.
The program provides minority and economically disadvantaged college graduates the opportunity to explore their interest in legal education and develop the skills needed to succeed in law school. Drake was one of only two law schools in the country selected to host the six-week institute.
According to Allan Vestal, dean of Drake Law School, Drake's participation in the program is a reflection of the law school's innovative curriculum and long-standing commitment to a diverse and inclusive community.
"Drake's successful execution of the CLEO Institute reflects a number of the strengths of our full curriculum, including intensive writing and conferences, small group class experiences, innovative trial practicum and involvement with lawyers and judges," Vestal says.
Participant Heather McKinney says that the program served as a valuable orientation to the law school experience.
"We were able to examine the Socratic method with amazing professors who treated us like real law students and challenged us," McKinney says. "Des Moines is a very friendly place in general, and the community at Drake is very welcoming."
Courses were taught by Drake faculty members, who were also available between and after classes to talk with institute participants.
"The Drake faculty took the program very seriously and made time to encourage us," McKinney says. "They were professional and completely open, giving us the opportunity to ask questions not only about classwork but also about the study and practice of law in general."
Albert Miller Jr., another participant, says the opportunities provided by Drake to institute participants reflect the law school's commitment to providing a well-rounded legal experience.
"We were able to network with practicing attorneys, judges and Drake students, and it was invaluable to meet with Drake professors one-on-one to develop better legal writing skills and discuss strategies for achieving life goals even beyond law school," Miller says.
During the program, participants toured the Iowa Supreme Court and Federal District Court. Polk County District Judge Odell McGhee, LW'77, hosted a dinner at his home, and the students attended an Iowa Cubs game with the members of the Polk County Bar Association.
Ellen Yee, professor of law at Drake, also invited the participants to attend a mini-trial practicum session in the Des Moines courthouse as part of a criminal law course.
"I had never been in a courtroom before," McKinney says. "During recess, the judge, prosecutor and defense attorneys spoke with us. We asked questions about the case and their careers. It was an incredible experience."
"Through this experience, participants were able to see how Drake Law School integrates theory and practice in teaching law," Yee says. "Throughout their time at Drake, the students were enthusiastic and hard-working, and it was wonderful to see them progress."