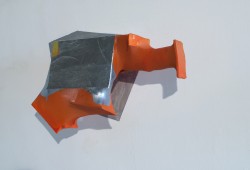 Jim Shrosbree
Mystic (fleur), 2011
Ceramic, nylon, acrylic, glue, enamel
The newest Anderson Gallery exhibition begs to be ogled from every angle and, in some cases, pulled open and taken apart.

The exhibition brings together small, intimate sculptures of Jim Shrosbree and the large post-consumer constructions of artist David Hamlow. As the careful detail of Shrosbree's pieces inspire head-tilting inspection, Hamlow's works demand immediate confrontation and urge the viewer to physically remove sections of the sculpture for closer examination.
The joint show, titled "Immaterial Material," will open with a reception from 5-7 p.m. on Friday, August 26. The event is free and open to the public. The artists will provide a brief introduction to their work in the gallery at 6 p.m.
"Jim and David's works are really different in the way they occupy space and the visual language they use to reach the viewer," says Heather Skeens, director of the Anderson Gallery. "But both artists create works that, through material choices and they way they are installed in the gallery space, call for a certain amount of interaction and exploration."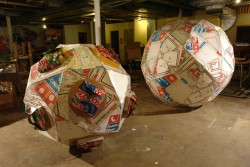 David Hamlow
Studio shot [works in progress] Archival Structure 7: Icosidodecahedron in foreground
The exhibition will also feature a collaborative piece between Drake
students and David Hamlow that will be part of his installation at the
Anderson Gallery. Each constructed a section of Hamlow's Archival
Structure 7: Icosidodecahedron.
Regular Anderson Gallery hours are Tuesday through Sunday, noon to 4 p.m. "Immaterial Material" closes Friday, September 23.
Visit www.jimshrosbree.com and www.davidhamlow.com for more information about the artists.



Film Screening inspired by art
New this year, the Anderson Gallery will offer a film series
organized in conjunction with the exhibition season. Films are chosen
based on the themes of the exhibition currently on view. All film
screenings are free and open to the public.
The inaugural film in the Anderson Gallery Film Series will be "Le
grand Cirque Calder 1927," which was directed by Jean Painleve and
originally produced in 1955. The screening will take place at 6:30 p.m.
Thursday, Sept. 15, in the Bulldog Theater located in the lower level of
Olmsted Center, 2875 University Ave.
The film celebrates the same kind of playfulness in abstraction
emphasized in "Immaterial Material" and features artist Alexander Calder
as he manipulates miniature performers in a tiny circus.