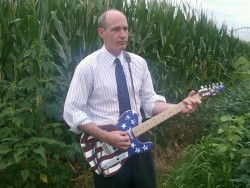 Thadeus McCotter
Presidential candidate Thadeus McCotter will be visiting the Drake University campus on Wednesday, August 24.
McCotter currently serves as the Representative for Michigan's 11th Congressional district. A native of Detroit, Michigan, he graduated from the University of Detroit and practiced law prior to running for Congress. He also plays guitar and after being elected to the U.S. House, he helped found a bipartisan band, The Second Amendments.
McCotter will meet with the campus community on Wednesday, August 24th at 7 p.m. in the Medbury Honors Lounge, 2730 Forest Ave. His appearance on campus is sponsored by the Drake University College Republicans.
Please contact Professor Rachel Paine Caufield in the Department of Politics and International Relations with questions: 515-271-1924 or rachel.caufield@drake.edu
Drake University is committed to an open and productive exchange of ideas, allowing free and informed discussion of political affairs. As a tax-exempt educational institution, Drake University does not endorse or oppose any party or candidate for public office.
For more information, please visit the candidate's website at http://mccotter2012.com/.