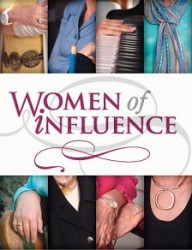 The Des Moines Business Record will honor three Drake University alumnae as part of the publication's 2011 class of
Women of Influence
.
A dinner recognizing the honorees will take place Thursday, August 4
from 4:30 to 7 p.m. at the Des Moines Downtown Marriott, 700 Grand Ave.
Tickets
for the event are $25 per seat or $200 for 10. The August 4 event
recognizes accomplished women from across the Des Moines community.
The Drake alumnae named 2011 Women of Influence include: Peggy
Fisher, FA'70; Lorraine May, JO'73, LA'76 and Wendy Waugaman, BN'82.
Peggy Fisher is a member of
the Drake University Board of Trustees and co-chair for distinctlyDrake,
the ambitious plan through which Drake University will realize its
vision for the future — to be, and be recognized as, one of the best
institutions of higher education in the country. In April, Fisher
received Drake's National Alumni Award for Distinguished Service. Fisher
has previously served on the Greater Drake Committee and Presidents
Circle Board. She and her husband, Larry Stelter, own The Stelter Company in Urbandale, which helps locate and obtain donors for more than 1,200
nonprofit organizations. The couple has helped fund multiple University
projects and programs in the past, including the Don Adams Leadership
Institute and the Quad Creek Cafe renovation. In 2008, they established
an endowed faculty chair in magazine journalism.
Lorraine May attended Drake
University as both an undergraduate and as a student of the Drake Law
School, where she was first in her class. She currently serves on the
Martin Bucksbaum Distinguished Lectureship Committee and works at Hopkins & Huebner, P.C. in Des Moines, specializing in insurance and employment law.
Wendy Waugaman, president and chief executive officer at American Equity Investment Life Holding Company, graduated from Drake with degrees in accounting and information systems. She then attended Notre Dame Law School. Prior to her current position with American Equity Investment Life Holding Company, she utilized both her accounting and law degrees to serve as the company's chief financial officer and chief counsel. Waugaman delivered the keynote speech at the Drake Women's Leadership Breakfast in 2010.