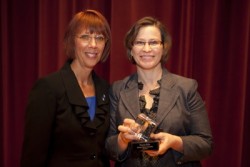 FOR IMMEDIATE
RELEASE
April 7, 2011
CONTACT: Brianne
Sanchez. 515-271-1834, brianne.sanchez@drake.edu
THIRD ANNUAL C. BOYD GRANBERG AWARD PRESENTED TO DRAKE PHARMACY
PROFESSOR
Drake University Assistant Professor
of Pharmacy Practice Denise Soltis was recently awarded the C. Boyd Granberg
Professional Leadership Award in recognition of her dedicated service to
professional pharmacy organizations, demonstration of personal leadership
traits and commitment to advancing the pharmacy profession.
The
award, considered a coveted honor for CPHS faculty, was presented during the school's Pharmacy and Health Sciences Day
on March 8.
Soltis began her
career in the College of Pharmacy and Health sciences in 1998. She
received the Hartig Faculty Development Award in 2006, and the Hartig
Distinguished Professor award in 2010.
Soltis also serves
as Assistant Dean for Clinical Affairs. She is a member of the College of
Pharmacy and Health Sciences Administrative Committee, Academic Affairs
Committee and Experiential Review Committee. She earned a bachelor's
degree in pharmacy from Butler University


Soltis is a founding member of the
District V Experiential Workgroup — a group comprised of experiential
education faculty within the member National Association of Boards of Pharmacy
District V Colleges. The group developed a comprehensive quality assurance program
for experiential sites that has been implemented at numerous institutions,
including Drake.
Soltis is
involved with professional pharmacy organizations such as the Iowa Pharmacy
Association (IPA) and the American Association of Colleges of Pharmacy (AACP),
among others. She has partnered with the University of Iowa and the IPA to support
the Collaborative Education Institute and a preceptor development program
applied to college curriculums nationwide. Soltis serves on the Board of
Directors of AACP and Hillside International Healthcare.
The C. Boyd Granberg Professional
Leadership Award was established in 2008 by Drake pharmacy alumni in honor of
C. Boyd Granberg of Des Moines. Granberg was a longtime faculty member and dean
emeritus of the college. Last year, Associate Professor of Pharmacy Practice
Renae Chesnut received the award.


Granberg, a leader in the
profession, served as president of the Iowa Pharmacy Association, director of
the Accreditation Council on Pharmacy Education and editor of the American
Journal of Pharmaceutical Education.