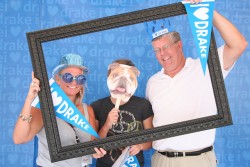 Guests enjoy the 2010 Drake Day tent
Drake Day at the Iowa State Fair will take place on Saturday, Aug. 13. The free festivities will occur from 9 a.m. to 8 p.m. at the Drake University tent on Rock Island Avenue just east of the Anne and Bill Riley Stage.
This year, the Drake tent will carry a "Blue Ribbon U" theme, showcasing larger-than-life objects that highlight some of Drake's impressive accomplishments, as well as a 25-foot-tall Spike the Bulldog. Guests are encouraged to take their photo alongside the giant models or steal a kiss from 2011 Beautiful Bulldog titleholder Lucy Brown, who will be at the tent from 9-10 a.m. Drake tent giveaways will include nylon bags, pencils, beads, drink koozies and frame magnets.The first 900 fans to visit the tent will receive a free pair of Drake sunglasses.
Drake cheerleaders, student-athletes and coaches from the women's volleyball and men's soccer teams will visit the tent at various times from 10 a.m. to 2 p.m. to sign free, limited-edition sports posters. Fans will also have a chance to pick up vouchers for discounted tickets to various Drake athletic events.
Also at the tent, Drake pharmacy students will conduct heartburn screenings for fairgoers. In true fair fashion, the screenings will include free heartburn-prevention-on-a-stick for those suffering from acid indigestion after indulging in one too many turkey legs or corn dogs.
Drake representatives will also participate in the "Battle of the Butter" carving competition, which will be held at 4 p.m. at the Anne and Bill Riley Stage. Each team will receive one 55-pound block of butter and have 30 minutes to sculpt. Winning sculptures will be displayed alongside the world famous Butter Cow in the Agriculture Building.
In addition to Drake Day on Aug. 13, the University will have a display in the William C. Knapp Varied Industries Building throughout the fair, which runs from Aug. 11-21. Heartburn screenings will continue on Tuesday, August 16 at the Farm Bureau booth.
For more information about Drake Day at the Iowa State Fair, contact Brianne Sanchez, 515-271-1834 or brianne.sanchez@drake.edu.