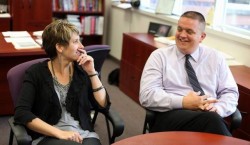 Kirk and Amy Johnson
Kirk and Amy Johnson quickly discovered
they shared a passion for education – and each other. They met while both were
teaching at Southeast Polk in 2002. He coached football. She coached
cheerleading. They married in 2004. Now their family, including Karson, 5, and
Amiah, 3, has moved to Waukee from Vinton. Both the Johnsons are beginning new
jobs as administrators in the Waukee school district.
Kirk Johnson is the new principal of Waukee High School, and Amy Johnson is the
new principal of Waukee Middle School.
They face sizable challenges as
administrators at one of the fastest-growing school districts in Iowa, but
they're already accustomed to juggling the demands of family and work.
Kirk Johnson was the principal of Vinton-Shellsburg High School. Amy Johnson
was the principal of Vernon Middle School in Marion.
"We're lucky enough that we have one life – it's all about education,
whether it's our kids in education, whether it's our positions. Our life is
school.", Amy Johnson noted.
Waukee Superintendent Dave Wilkerson
said both Johnsons are innovators in education and are forward-thinking.
Kirk Johnson was hired without any promise that his wife would have a job in
the district, Wilkerson said. During interviews, Amy Johnson emerged as the
strongest candidate.
Amy Johnson is not completely new to the Waukee district. While working on her
master's degree at Drake University, she taught science for one year at
Prairieview School. "It's a community that we had talked about being a
part of and wanted to be a part of again," Amy Johnson said.
"We're a new team," Amy
Johnson said. Amy already
has her family's Christmas card planned for December. It's going to feature the
Johnson family standing in front of a giant purple "W."