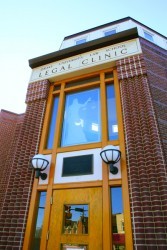 The workshop will be held in the Neal and Bea Smith Law Center at Drake University.
On Monday, July 18, the Drake Law School Agricultural Law Center will host a free workshop on the benefits of the United States Department of Agriculture (USDA) Value Added Producer Grant program. Farmers and business owners — as well as their professional affiliates — are invited to attend.
The event will be held at 10 a.m. in the Neal and Bea Smith Law Center, 2400 University Ave. Registration begins at 9:30 a.m. and the workshop will last until noon.
The grants provide funds for planning activities and working capital for marketing value-added agricultural products and farm-based renewable energy initiatives. Eligible applicants include independent producers, farmer and rancher cooperatives, agricultural producer groups and majority-controlled producer-based business ventures.
Representatives from USDA Rural Development will be on hand at the workshop to present information and address questions. Thanks to the grant program, $37 million will be available to applicants this year.
"Iowans have always been very competitive in this grant program," said Neil Hamilton, professor of law and director of the Agriculture Law Center. "The Center is hosting this workshop to encourage Iowans to prepare and submit applications to compete for these resources, which are due by August 29."



"In the last round of funding, 13 Iowa farms were awarded grants including Juan O'Sullivan's Salsa Company and Frisian Farms artisanal cheese makers — both members of the Greater Des Moines Buy Fresh Buy Local campaign," said Matt Russell, state food policy project coordinator at Drake.



This year, the USDA will award an estimated 250 applicants with grants. Bill Menner, Iowa director of USDA Rural Development, said that the grants benefit the state and its farmers in numerous ways.
"This grant program can help with the development of local foods systems and can spur the economy by supporting local producers," said Menner, who will deliver closing remarks at the workshop. "I encourage producers interested in starting or expanding their value-added business to attend this workshop or give our agency a call."
For more information, contact Matt Russell at 515-271-4956 or matt.russell@drake.edu.
Drake Agricultural Law Center workshop on the benefits of the USDA Value Added Producer Grant program

When: Monday, July 18, 10 a.m. to noon; registration begins at 9:30 a.m.

Where: The Neal and Bea Smith Law Center, 2400 University Ave.

Cost: Free

Contact: Matt Russell, 515-271-4956 or matt.russell@drake.edu