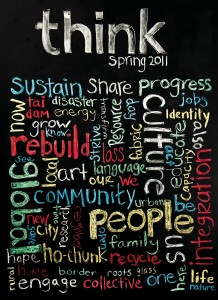 Think, a news magazine produced by Drake University journalism students, recently was awarded highest honors by the Association for Education of Journalism and Mass Communication. The magazine earned first place in general excellence, first place in design and second place in editorial in the AEJMC Student Magazine Contest. This marks the fourth consecutive year that Think has received the top prize in general excellence.
In other awards, Drake Magazine won second place in the service and information category for "New Age Etiquette." The package was written by Emily Tozer, Jessica Anderson, Emma Collins, Joe Stych, Abby Wolner, Matt Smith and Sydnie Goodwin.
Emily Cook won third place in the places category for "Down to Earth," written for Urban Plains, a digital magazine produced in the fall 2010 magazine capstone taught by assistant professor Jeff Inman. Cook's story was about the Dancing Rabbit commune in Missouri.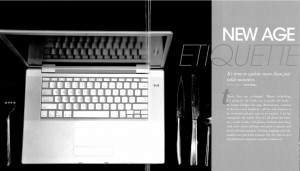 In the category of individual start-up magazine project, Kate Krug won second place and Joe Stych third for prototypes they completed for the Magazine Publishing class.
Think was produced in a spring 2011 senior capstone class that combined magazine and news-Internet majors. It was taught by Lori Blachford, the Peggy Fisher and Larry Stelter chair of magazine journalism, and assistant professor Jill Van Wyke.
The contest was judged by professional magazine writers, editors and designers. They complimented Think's "hard, investigative journalism" and "bold, energetic design."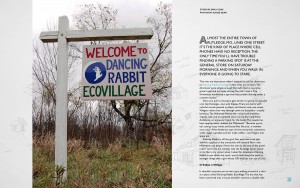 "This magazine does an incredible job of speaking to its progressive readership with hard-hitting articles, investigative journalism, news reporting and socially conscious service articles," one judge wrote. "Articles, art, design and illustrations are all consistently wonderful. The articles are international in their scope, yet often speak to Midwestern readers. … Excellent magazine that could compete on newsstands with the likes of Mother Jones and Utne Reader – no easy task."
Among the featured articles:
How the Ho-Chunk tribe in Wisconsin is preserving its native language for a new generation.
How the owners of a Dominican coffee plantation are taking fair trade to a new level.
The latest work by New Orleans artist Candy Chang, whose interactive murals give community members a chance to have their voices heard.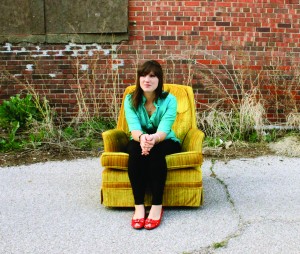 Editor-in-chief Riane Menardi said she is proud of what Think's staff accomplished. "The whole staff worked hard to produce a magazine we love — we didn't publish anything we personally didn't want to read or look at. The judges' comments on the design are especially exciting. It's so fulfilling to be recognized for our hard work."
The students on the staff are responsible for every step in the production process: story ideas, assignments, deadlines, reporting, writing, editing, copy editing, web producing, photography, design, production, distribution, advertising, marketing and promotion.
"The cool part about Think is how much we learned not only about current events and issues, but about how a magazine comes together," said Menardi. "We worked so closely on the writing, designing, editing, advertising, and web production— and we helped each other every day. We're so pleased with how it came together."
Blachford praised the students' collaboration.
"To win the general excellence category is especially rewarding because you can't produce a quality magazine from cover to cover without a true team effort," Blachford said. "The students set the bar very high from the beginning, with every article aimed at informing and inspiring their readers. It took a lot of hard work and late nights to fulfill on that promise, but they never wavered from their goals. It's great to see that effort rewarded."
Think is available at various locations around Des Moines, or you can read the digital version. The companion website is at www.thinkdsm.com
Think is produced with support from the Meredith family and Meredith Corporation.