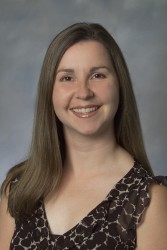 Lori Schirmer
Lori Schirmer, associate professor of pharmacy practice, was recently selected to serve on a Board of Pharmacy Specialties (BPS) task force, which will conduct a role delineation study in critical care. The purpose of the study is to determine whether an area is based upon specialized knowledge of the pharmaceutical sciences, as well as functions routinely performed by practitioners in these proposed specialties. Conducting a role delineation study is a critical step in evaluating a proposed specialty.
"This was a very competitive process, so for Dr. Schirmer to have been one of eight highly respected individuals chosen from across the country in this specialty field is an exceptional achievement," says June Johnson, chair of the clinical sciences department. "This national recognition for both Dr. Schirmer as a critical care expert and for Drake is significant and adds to both her academic career accomplishments and the reputation of our college and Drake."
Pharmacy professionals' high interest in pain and palliative care, critical care and pediatrics and the exploration of new specialties is consistent with the increased attention to and recognition of BPS specialty certification over the past five years, where the number of board certified pharmacists has doubled.
"BPS received almost 300 nominations of individuals to serve on the pediatric pharmacy and critical care pharmacy practice analysis task forces," says William Ellis, BPS executive director. "The conduct of this and other role delineation studies demonstrates the active commitment of BPS to recognize pharmacy specialties and certify pharmacists' knowledge and skill at the advanced practice level."
The Board of Pharmacy Specialties (BPS) is an autonomous division of the American Pharmacists Association (APhA), founded in January 1976 to recognize specialties and certify pharmacists in specialized areas of pharmacy practice.
If the role delineation studies in these three areas yield information suggestive that pain and palliative care, critical care and/or pediatrics should be recognized as a specialty practice in pharmacy, the criteria outlined in the BPS Petitioner's Guide for Recognition of a Pharmacy Practice Specialty will be followed in the petition for new specialty recognition. The complete process leading to the administration of a certification exam in a new specialty takes approximately three years to complete.