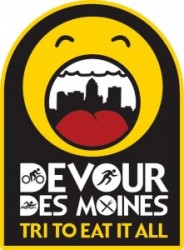 Devour Des Moines
, a triathlon that celebrates athleticism, eating and Iowa's capital, will benefit
Drake University's Buy Fresh Buy Local Program
(BFBL).
The triathlon, in its inaugural year, will pit 30 teams against one another in relay contests on Saturday, Aug. 6. Full Court Press, a coalition of local Des Moines businesses, will prepare food and beverages to be devoured between running, biking and swimming events.
All proceeds from the triathlon will benefit BFBL, a sustainability campaign connecting the Greater Des Moines community to local farm-fresh food to support a healthier population and promote economic growth.
"We're very appreciative that Devour Des Moines will benefit our
program, and that they've allowed us to help shape the event by
including a food station featuring locally grown produce," says Matt
Russell, coordinator for the Greater Des Moines BFBL program and Drake's
state food policy project coordinator.
"There is an increased demand at food pantries, especially with the
economy in its current state, so low-income and homeless individuals are
especially at-risk of losing access to healthy, fresh foods," he says.
"Thanks to community support for this event, BFBL will continue to
promote access to healthy produce and can focus some of our efforts on
supporting organizations that work to feed the hungry."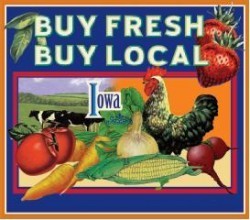 Jill Olsen, a committee volunteer for Devour Des Moines, says that
BFBL's focus on local buying sustainability is aligned with the
triathlon's goals.
"BFBL has ties to many groups that we wanted to help, and they help
promote local businesses and farms," Olsen says. "A donation to BFBL
means that Devour Des Moines will be able to support many different
local groups."
The event is also sponsored by the Greater Des Moines Young Professionals Connection (YPC).
"One of YPC's core missions is to support other Des Moines non-profit
organizations," says Jason Wells, president of YPC and a 2004 Drake
graduate. "BFBL's goal of promoting farm-fresh food as a means to a
healthier population was a perfect match to the values Devour Des Moines
and YPC support."
Devour Des Moines is a relays event designed to promote buying local food and living an active lifestyle.

All proceeds will go to the Greater Des Moines Buy Fresh Buy Local campaign.

When: Saturday, Aug. 6th

Where: Downtown Des Moines

Registration for Devour Des Moines begins Friday, July 1. For more information, visit www.devourdesmoines.org.