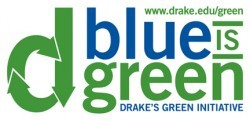 Drake University was recently selected by the
Iowa Recycling Association
to receive the 2011 Best School Recycling Program award. The honor will be presented at the organization's annual luncheon on July 14.
In 2010, Drake Facilities created Drake's recycling program to qualify the University for single-stream recycling, a cost-effective process in which papers and plastics are mixed together for processing.
A University garbage truck regularly delivers recyclables to Green Star's single-stream recycling center in downtown Des Moines. Drake received a grant from the Department of Natural Resources to offset the program's expenses.
As part of an ongoing recycling initiative, Drake has installed recycling containers throughout campus, added a 40-gallon recycling container to the custodians' trash pick-up carts and added outdoor dumpsters to already existing trash enclosures.
The program, titled "Blue is Green," was marketed to students, faculty and staff, who have responded with enthusiastic participation. Most communities around Des Moines have also engaged in the single-stream recycling program.
"It is important for Drake to have a strong campus recycling program to enhance our commitment to sustainability," says Mark Chambers, Drake's director of facilities.
To implement the recycling program, facilities employees were assigned new duties pertaining to recycling and incorporated them into everyday assignments. Residence halls formed student committees during the school year to help encourage recycling practices.
Between October 2009 and June 2010, 62 tons of waste was diverted from the Des Moines landfill, saving Drake $2,418 in fees. Solid waste costs for the University have decreased as commodity prices for recyclables increase.
Drake University's commitment to sustainability continues to grow and serves as an example that implementing policies and practices to protect the environment is possible and pragmatic.