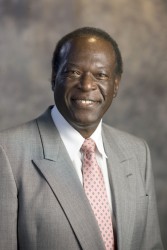 Dolph Pulliam
Dolph Pulliam, director of community outreach and development, was recognized as "Citizen of the Year" at the Iowa Juneteenth Observance (IJO) on June 9, according to The Iowa Bystander.
The IJO presented its first annual honors reception at the Holiday Inn in downtown Des Moines for the purpose of acknowledging the work of several of Iowa's outstanding citizens. The 2011 IJO king and queen were announced at the event, which also highlighted and recognized the accomplishments of three outstanding Iowans as the Citizen of the Year, Health Practitioner of the Year, and the Educator of the Year.
Pulliam was born in West Point, Mississippi and grew up in Gary, Indiana. He was also the first African-American television broadcaster in the state of Iowa. He is a member of the Iowa African American Hall of Fame and has served on numerous boards and commissions to include the Mid-Iowa Council of Boy Scouts. Pulliam is a member of Omega Psi Phi Fraternity, Incorporated.