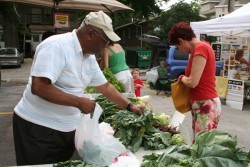 CONTACT: Jennifer Thompson,
dnfmdsm@gmail.com
On Wednesday, June 8, the Drake Neighborhood Farmers' Market will host audiologists and medical professionals from Helping U Hear, a Des Moines-based hearing loss treatment center. They will discuss hearing problems and solutions in the market's health tent, where free blood pressure and blood sugar tests are also available.
"We will discuss the different reasons for hearing loss and offer treatment suggestions for people, including whether or not they require hearing aids," said Chris Killough, director of business operations at Helping U Hear.
The market will be open from 4 to 7 p.m. every Wednesday through Sept. 14 in the parking lot of First Christian Church, 2500 University Ave. Free parking is available for shoppers across from the market on the east side of 25th Street.
More than 15 vendors will have Iowa-grown produce, baked goods, snacks, meals, sandwiches and crafts for sale. Some vendors have wireless equipment that accepts bank debit cards, VISA, Discover and MasterCard credit cards and Electronic Benefit Transfer cards.
Eight vendors welcome Senior Farmers' Market Nutrition checks and Iowa Farmers' Market Nutrition Program (IFMNP) and Women, Infants and Children (WIC) checks and vouchers.
Entertainment will be provided weekly, as well as educational and informational sessions.
The market is a nonprofit, community project sponsored by First Christian Church, the Drake Neighborhood Association and Drake University. For more information, call market managers Rose Scott or Eddie Robinson at 255-5630, email rosescott66@yahoo.com, or visit https://wwww.drakefarmersmarket.com/.
Drake Neighborhood Farmers' Market

When: Wednesday, June 8, 4 – 7 p.m.

Where: The parking lot of First Christian Church, 2500 University Ave.

Cost: Free and open to the public.