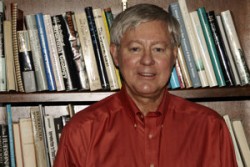 J. Ernest Breeding Jr.
Drake University will host a lecture by geophysicist J. Ernest Breeding Jr. on the science behind global climate change on Friday, June 3. The event is part of the Drake Undergraduate Science Collaborative Institute (DUSCI) Science Colloquium Series.
Free and open to the public, the lecture is titled "Climate Change: How Do We Known Our Planet is Warming and What Does it Mean?" The discussion will be held at 1:30 p.m. in room 206 of Olin Hall, 1344 27th St.
Breeding, who received his bachelor's degree from Drake in 1960, will discuss the findings of climate scientists, the evidence for global warming and humanity's role in creating and combating the phenomenon.
Breeding earned his doctorate in geophysics from Columbia University in 1972. He also holds degrees from Simpson College and the University of Tennessee at Knoxville.
As a research physicist, Breeding has more than 20 years of experience working for Navy Laboratories, including the Naval Research Laboratory at the Stennis Space Center in Mississippi.
He has also served as an associate professor at Florida State University in Tallahassee and the Florida Institute of Technology.
Drake's Science Colloquium Series features lectures by Drake faculty and other scholars and professionals every semester. DUSCI was launched in April 2005 to promote, support and coordinate efforts to fund undergraduate research in math and science.
For more information, contact Charles Nelson at charles.nelson@drake.edu or 515-271-3034.